Born to Age   •   December 9, 2016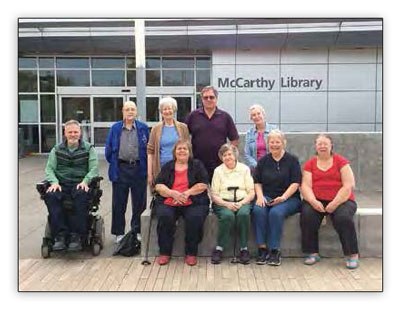 Napa County Alliance for Senior Education (NCASE) envisions a community college system that puts the word "community" back into the name of local community colleges and serves and engages populations that live up to 100 years and beyond. We are living longer. Presently the number of people over 60 exceeds those under age 15! Longevity is being slowly redefined sociologically. Retirement does not mean loss of activity and interest in life and living. Seniors need educational opportunities that help with the present and plan for the future. Classes that address Senior Issues must be ongoing to help us maintain vitality and minimize disease as we live longer and thrive. We want innovative ways to solve the problems of people over 50 while improving the well being of people of all ages. It is an intergenerational approach to life.
"Our Mission is to redesign and enhance the quality of a long life through education using a multidisciplinary approach."
NCASE strives for positive community connections and we want to establish an innovative trend setting model for Napa Valley College and all community colleges. We believes that Napa Valley College has the expertise, experience, and facilities to include the education of Senior Citizens which can be financially accomplished through state funds, grants, and self sustaining classes.
NCASE started when a group of motivated Seniors from the Adaptive PE Course at NVC gathered to discuss the needs and concerns of aging adults. Many of us were experiencing a number of challenges and had concerns that could be addressed by an educational approach. An example of these issues are health, housing, finance including financial abuse, lack of MD's accepting Medicare, depression, memory, technology, and recreation.
The short term goal of NCASE is to have an educational and informative Longevity Program for ourselves and our peers. NCASE has presented Symposiums and will be presenting more Symposiums in collaboration with organizations throughout Napa Valley. Plans are being made to offer workshops on various topics such as meditation, self defense, memory, technology and health to name a few. The long term goal of NCASE is to have a vibrant Longevity Center for the Napa community.
NCASE helps us as individuals. It is keeping us vital, energetic, feeling good and excited about life. NCASE serves its members by giving us the opportunity to help others and be of service. It provides us with social, intellectual and cognitive outlets that keep us informed, involved, and healthy.
NCASE meets weekly at Napa Valley College on Tuesday mornings from 9:30 to 11:30 AM.
We understand that not everyone can commit to a weekly meeting, but, we are setting up special committees that can meet at each committee's discretion.
We encourage you to sign up, so we can join together to benefit our ever increasing Senior population in Napa County.
For a membership application email us at: ncaseclub@yahoo.com or phone us at 707-256-7645.  We look forward to meeting and working with you!