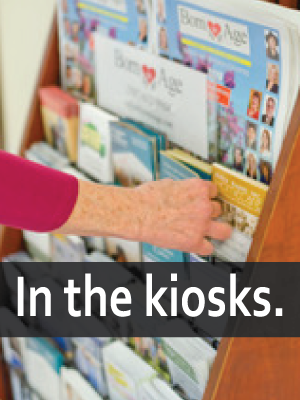 Advertise in Our Kiosks
Our beautiful Born To Age Senior Information kiosks provide eye-catching information on what's available in the local community to help seniors.  They are strategically placed in medical buildings, senior center, nursing homes, pharmacies, churches, mobile home parks, apartment buildings . . . and we have 120 locations throughout the Bay Area!
Don't worry about stocking – we do that! We put your brochures in the kiosks every month, and let you know how things are moving along. We charge as low as $99 a month for each 25 kiosks –  that is the best Advertising deal in the Bay Area.
What we need from you is 500 brochures (or rack cards), a signed contract and your credit card number. Please send your brochures to: Born To Age, 5975 Locust Avenue, Cotati, CA 94931, and we'll take it from there!
Need a kiosk in your office or lobby, we'll be happy to oblige. We provide them at no cost and your business can be a Senior Information Center for the community.
Current Kiosk Locations
Napa County Kiosk Locations
Solano County Kiosk Locations
Region 1: Sonoma, Santa Rosa and Sebastopol
Region 2: Novato, Petaluma and Rohnert Park
Contra Costa County Region 1 Locations
Vendor brochures cluttering your lobby? Request a Kiosk for your location: (707) 652-9966.
We can also assist with creating your advertisement. See contract for rates.