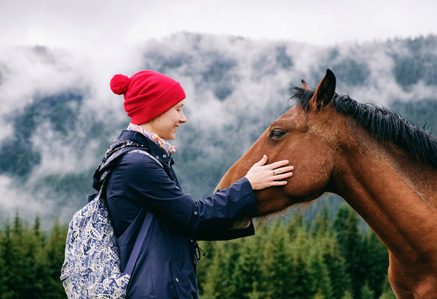 There is something magical about horses. These beautiful animals have the uncanny ability to mirror the feelings of their handlers and riders. Despite their large and intimidating size, horses offer their humans a sense of connection, cooperation and trust.
Riding or walking a horse also provides a low-impact exercise that is beneficial for both the mind and the body. As a result, horses are used for therapeutic purposes for all ages.
"You are never too old to ride a horse," says Charlotte Dougherty, executive director of SpiritHorse Therapeutic Riding Center of the San Francisco Bay Area. Dougherty explains that her center currently serves about seven adults who are over the age of 60.
Some of these adults rode horses in their youth, and others are learning to ride for the first time, Dougherty explains. One of the current SpiritHorse riders is a woman in her 60's who was confined to a wheelchair for a year after a hip replacement.
"At first, we had to hold her on the horse, but now she rides quite well on her own," Dougherty says. "Since a horse's gait is similar to our gait, riding or walking a horse is great exercise."
All of the animals at SpiritHorse are "second-chance horses," horses whose previous owners could no longer keep them. Dougherty feels these horses are particularly intuitive to their riders. "Each of our horses is gentle and has a different personality, so we can easily accommodate our older riders."
According to Julie Larson, program director of Giant Steps Therapeutic Equestrian Center in Petaluma, "Horses really know who is on their back and will take care of who needs to be taken care of… They will slow down for riders who don't have the best balance and make other adjustments."
Larson says her center currently has about 15 regular riders who are over the age of 60. These riders include people recovering from a stroke or living with memory impairment. The center offers lifts and other accommodations for people who cannot walk.
"The movement of the horse helps regulate the (rider's) brain," Larson points out. "It also builds core strength and spatial planning."
Mentioning a current rider who has Alzheimer's Disease as an example, Larson says, "Riding can bring back happy childhood memories for some people."
"I want older adults to know that riding is not just for children," Larson stresses. "Adults can benefit from equine therapy just as much as kids, and it is never too late to learn to ride."
Jen McWherter, an instructor at Giant Steps, agrees, adding that riding lessons can be an enjoyable social activity for older adults. "We put people in classes with others of similar ages and abilities," she explains. "They really get to know each other and develop a bond."
Both centers provide safety helmets for riders and request that riders dress comfortably in long pants or jeans and wear closed-toe shoes or boots.
It's important to check with your doctor before beginning a riding program, and physical conditions such as spinal injury, seizures or osteoporosis may preclude you from riding.
However, you may still be able to gain the physical and mental benefits of equine therapy through grooming and walking a horse.
"We like that we can offer a safe place for adults to learn something new or to continue doing something they love," Larson concludes.
For more information:
SpiritHorse Therapeutic Riding Center of the San Francisco Bay Area
At the Corner of Wetlands Edge Rd & Eucalyptus Dr
American Canyon, CA 94503
(707) 720-6360
spirithorsebayarea.org
Giant Steps Therapeutic Equestrian Center
7600 Lakeville Hwy
Petaluma, CA 94954
(707) 769-8900
giantstepsriding.org
Xenophon Therapeutic Riding Center
60 Don Gabriel Way
Orinda, CA 94563
(925) 377-0871
xenophontrc.org