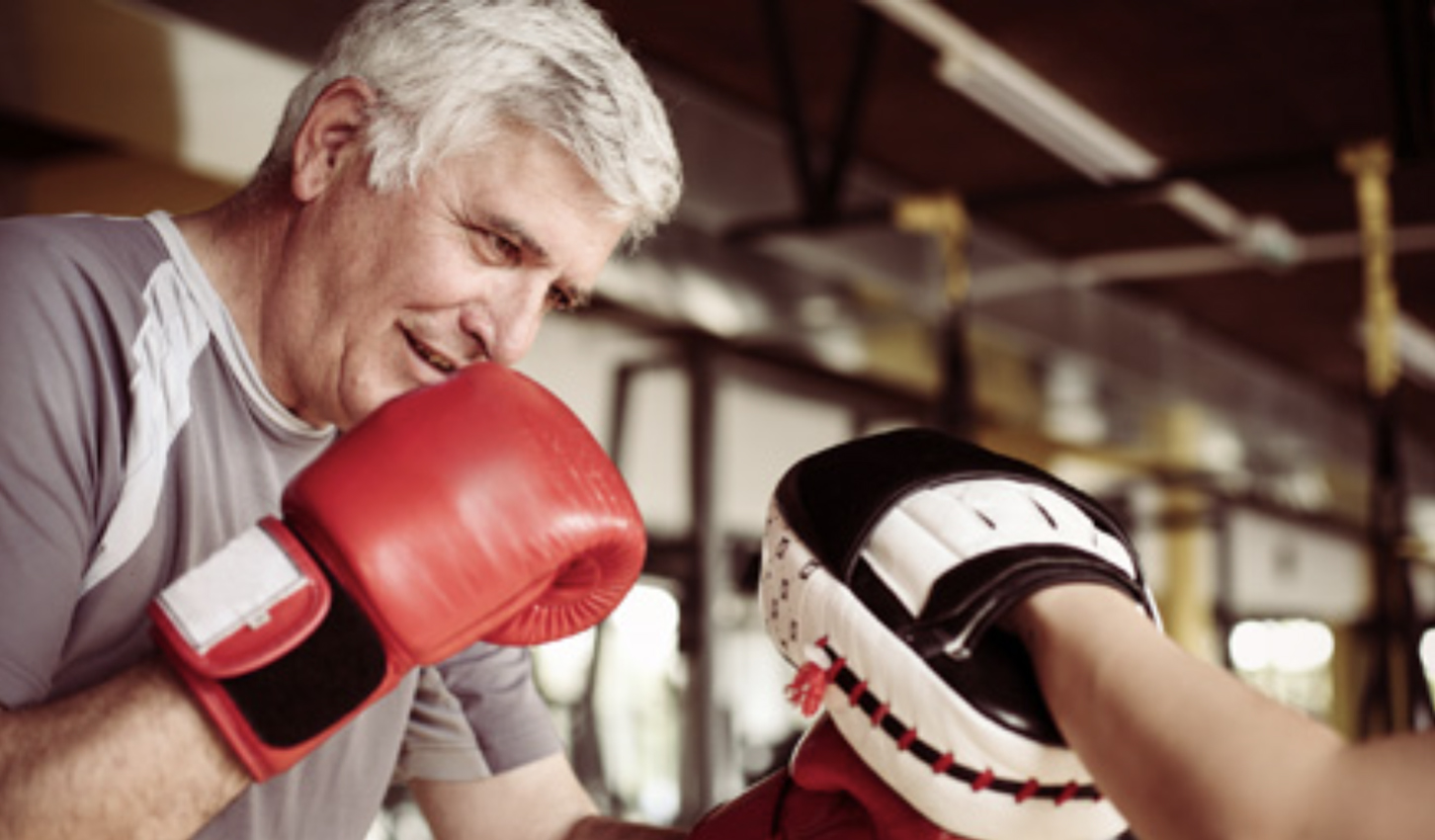 When Don Streeper, 71, was diagnosed with Parkinson's Disease two years ago, he was surprised. After all, he wasn't shaking (which is a prominent symptom), and he thought there was just something wrong with his knees. It seemed his gait was off… something he believed his knee replacement surgeries would fix.
But, he was wrong. His knees and gait were off due to Parkinson 's, and Streeper knew life had to change. He quit his job as the director of the Petaluma Senior Center and began to focus on keeping the illness at bay for as long as possible.
"The physical therapist at Kaiser prescribed boxing and physical fitness," said Streeper, who now attends Rock Steady Boxing three times a week, and a fitness club four days. He's as active as he can be, and, he believes, "it's working."
"I think I've seen a change. I've improved…I'm not at status quo, and I'm not getting worse," he said. Streeper only uses a walker for balance and gait.
Rock Steady Boxing is a unique exercise program based on training used by professional boxers and adapted to people with Parkinson's. Yes, it is taking the country by storm.
The core footprint of all the exercises is built on three concepts:
Connection: Building relationships and rapport between those in the exercise group.
Consistency: Engaging in multiple exercises that each work to build support in areas where people might be suffering in terms of muscular or coordination loss.
Compassion: Every disease is a hard battle if you're alone, so by having a group of people who care about you, and are present with you, many benefits can be found.
It's a full body workout using non-contact boxing for balance, coordination, agility, strength, mental focus, and flexibility. People also listen to rock and roll music and yell a lot. It's the shouting and yelling which adds a lot of oomph to the day…and helps strengthen vocal projection and speech.
Rock Steady Boxing is a nonprofit organization. Streeper pays only $90 a month to attend as many sessions as he wants.
"There could be anywhere from 15-25 people in a class," said Streeper who feels a part of the "fighting back" community.
I was anxious to see a Rock Steady Class so on a sunny Thursday morning in May, I dropped in on a 10:00am Rock Steady Boxing class at Studio Fit Petaluma. I spoke with the owner, Scott Sinan and he educated me on the Rock Steady program and the classes taught by himself, Ryan Markey and Jeanette Perry, all certified instructors. What I heard was compelling, and I was eager to meet the participants and see them in action!
What I first witnessed was this: men and women ranging between the ages of 55-85 entering the gym with big smiles and what seemed like a sense of purpose.
As they made their way to the back studio where the class was going to be held, they chatted and caught up with one another. I could immediately tell that this was more than just a typical exercise class; it was a community.
On this particular day, their coach was Ryan Markey. When Ryan walked into the studio, there was a distinct uptick in energy. Classic rock n' roll started to pump out of the speakers (I think it was Stevie Ray Vaughn), and Ryan greeted his class, asking how everyone was feeling, what was new and if they were ready for the task ahead of them. He received a resounding "Yeah!", and then it was go time!
For the next hour, Ryan lead his class through a warm-up, mobility movements, and an impressive boxing workout that was peppered with commands, including ones to shout and yell at the top of their lungs. These students were Drn; they pushed themselves and achieved their goal – finish the workout while giving it their all.
The participants that I spoke with at Studio Fit Petaluma credit the Rock Steady Boxing Program for helping them improve their symptoms, which in turn has dramatically improved their quality of life and given them a fantastic support system. Now that's delivering a knockout punch to PD!
Find a Rock Steady Boxing Program near you!
Official Rock Steady Boxing classes are lead by certified Rock Steady instructors that have attended a training camp that teaches how to conduct a class and scale for every ability level. The affiliates listed below have met these criteria.
The official site for Rock Steady Boxing is rocksteadyboxing.org. You will find a listing of every location, worldwide, that offers the program. Here are most of our "local-ish" ones!
For more information about PD, visit The National Parkinson Foundation at parkinson.org or call 1-800-4PD-INFO.