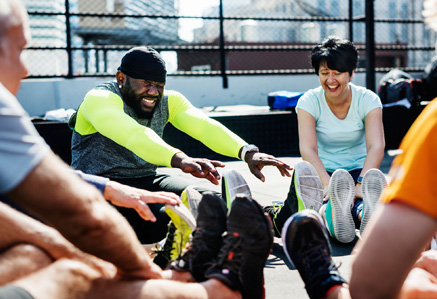 If you are looking for a way to maintain or increase your level of strength and fitness, you should consider CrossFit. CrossFit is a trademarked fitness program that combines a variety of movements — such as squats, pull-ups, push-ups, weightlifting, gymnastics, running and rowing — into a timed workout.
"Everyone, regardless of your age or ability, can be a candidate for CrossFit," says Ryan Parker, who is a head coach and one of the owners of CrossFit Northgate in Santa Rosa. "The goals are the same for both a young athlete and for a senior – to improve function through proper movement."
Parker is passionate about working with older adults on retaining or regaining their strength, movement and overall fitness levels. He currently has an 80-year-old client as well as many clients in their 60s and 70s. "I think what CrossFit can do for aging athletes is really exciting and unprecedented," he says. "It is recalibrating what people expect of themselves and of each other in the aging process."
Parker explains that most have been programmed to believe that it's normal to "give away our physical abilities as we age."
"If our knee hurts after jogging, your doctor may say you need to stop jogging. But we will assess what is going on – has something changed with your gait? What can we do about it?"
Parker believes older adults should fight hard to maintain their physical fitness and range of motion. "We need to become smarter on how we exercise and take the time needed to heal," he says. "But the idea that we need to slow down compromises our fitness and ultimately our health as we age."
CrossFit provides resistance training that is critical to maintaining muscle strength and bone density as we age.
Brad Schoenfeld, an assistant professor at New York City's Lehman College who has published more than 30 academic papers on resistance training, says in an interview with Time.com that bone tissue losses outpace the formation of new bone tissue as we get older. This decrease, which is especially common among sedentary people and menopausal women, can lead to weakness and poor posture.
"Resistance training counteracts all those bone losses and postural deficits," Schoenfeld says, explaining that strength training stimulates the development of bone osteoblasts, cells that build and strengthen. While aerobic exercise can offer benefits to your bones, especially in your lower body, resistance training is the optimal way to maintain and develop total-body bone strength, according to Schoenfeld.
CrossFit Northgate offers classes from 6 a.m. to 6:30 p.m. For people new to CrossFit, Parker recommends registering for an NGFit class, which he describes as "challenging but less technical and less intimidating" than regular CrossFit classes.
New members begin with one-on-one training with a coach. "Everyone has their own strengths and weaknesses," he explains. "With one-on-one sessions, we can accurately assess everyone on an individual level."
Group classes are one hour long and consist of:
Warm-ups
Skill work
Strength-based or conditioning-based workout (or a combination of both)
Cool down that includes range of motion exercises
Most members attend classes three to five times each week. CrossFit classes tend to become a close-knit group who encourage and support each other as they progress through the program.
"Exercise can be hard, and misery loves company," Parker admits. "We have demands on our time and our energy. When you come in here, you have your coaches and your classmates to help you and to support you through the entire process…You also feel connected with others who share common values."
Parker is open to creating a CrossFit class just for seniors if there is enough interest. Visit crossfitnorthgate.com.
CrossFit Northgate
538 Mendocino Ave
Santa Rosa, CA 95401
(707) 595-4636