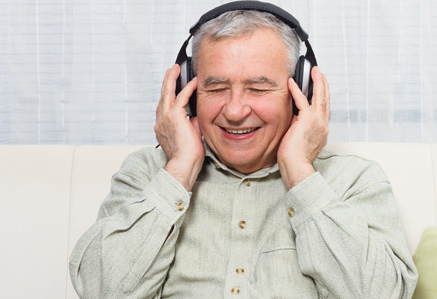 Do you know that feeling you get when a favorite song comes on the radio? Within just a moment or two, you are transported to a different time and place – and you feel good.
Music and sound have a powerful connection with the human body. That relationship is the basis for sound healing, the use of the energy of sound to promote mental and physical wellness. David Gibson, author of The Complete Guide to Sound Healing and director of the Bay Area's Globe Institute, is a recognized expert in sound therapy.
"It is all about the flow," says Gibson. "When the body is healthy, there is a smooth flow to it…Music has a flow that triggers a smooth flow in us."
Research by the Globe Institute's and non-profit research arm, Sound Healing Research Foundation, has found that sounds and vibrations are useful in healing many health issues including depression, anxiety, aches and pains, PTSD, Parkinson's Disease and various muscular and neurological disorders.
The Foundation also is working with Paradise Valley Estates in Fairfield on long-term studies using sound therapy to treat Alzheimer's. Gibson also says there have been promising results in the use of sound therapy to boost the immune system and to treat certain forms of cancer.
Gibson promotes two basic ways of using sound as therapy – listening to the music and feeling the sound waves on your body. His therapies can be useful for children on up to older adults.
"We have frequencies designed to treat the full range of body parts and body systems," says Gibson, explaining that some treatments do not involve listening but rather applying the sound or vibrations directly to a painful area of the body.
If you are interested in learning more about sound therapy, a good place to start is by visiting the Globe Institute's website. Gibson points out that his company produces about 60 CDS, many of which have demonstration recordings you can try out. "The next step is to have an assessment done to find out your natural rhythm and to have CDs that are attuned to you," Gibson says.
Another option is to listen to recorded instruction or to attend live online or in-person classes. The Globe Institute offers a certificate program and a degree program in sound healing, but courses also are available on an individual basis without enrollment in the program. Workshops are held throughout the year at the Institute, 351 9th St in San Francisco, and at other locations in the Bay Area, such as Paradise Estates in Fairfield.
Sound healing and sound therapy study can help us physiologically, psychologically, emotionally and spiritually, according to Gibson.
He encourages people of any age to explore the way certain sounds and vibrations can help you feel more grounded, emotionally stable and centered. "When you are aware of your own root frequency, you feel more connected to your own center," he explains. "When the challenges of life move you off center, you will learn how to draw upon certain sound techniques to bring yourself back to that centered place."
Visit soundhealingcenter.com or call (415) 777-2486 for more information.